Attorney at Law at Citizenship and Immigration Legal Services, Inc
Vanessa Elmaleh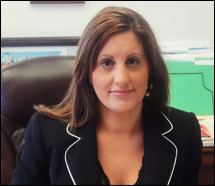 Vanessa Elmaleh Attorney at Law, received a double legal education in both France and the United States. She attended the prestigious Pantheon- Assas Law School in Paris where she graduated with honors. She also obtained her law degree from Tulane Law School in New Orleans. Vanessa Elmaleh holds as well a certificate in Commercial Arbitration from the American Arbitration Association and a certificate for EB-5 procedures from the American Immigration Lawyers Association.
Vanessa Elmaleh is admitted to the highest court of the land, the Supreme Court of the United-States, the United States Federal Fifth Circuit Court of Appeals, the Supreme Court of Louisiana and all immigration courts. She is a member of several legal and


professional organizations such as the American Immigration Lawyers Association which advocates for immigrants, the American Bar Association and the International Jewish Lawyers Association.
Vanessa Elmaleh is also an active member of non-for-profit organizations, such as the French-American Chamber of Commerce, l'Union des Français en Floride and Education Française en Floride.
Through the years, Vanessa Elmaleh has been featured in several newspaper articles such as the Miami Daily Business Review and the Miami Herald for her work as an immigration advocate.
Prior to founding Citizenship and Immigration Legal Services in 2004, Vanessa Elmaleh worked for a major law firm where she handled a variety of immigration matters including business-based visas, and naturalization cases. She also worked for a Non-profit organization helping the immigrants below the poverty guidelines in political asylum and deportation cases.
Vanessa Elmaleh's interest in immigration law stems from her personal experience as an immigrant from France. She can relate to her clients and understands the frustrations that many willing immigrants face when they are denied permanent residency in the U.S. due, in large part, to their unfamiliarity with U.S. immigration laws and all its options. She choose the practice of immigration law to be able to guide and help others realize their dreams of coming to the United States of America to live and work legally.
She represented notorious people before USCIS such as comedian Gad Elmaleh during his U.S. tour, famous rap singers such as Booba and La Fouine, or World class Mix-martial Arts champion Cheick Kongo. She also assisted thousands of businessmen and U.S. subsidiaries of major French companies in their immigration procedures for employees such as (Roche Bobois, CAFPI, L'Oreal, Biguine, Trini in Private, M.G.I. or Cote de France).
Vanessa Elmaleh was invited by the University of Miami to serve on a panel of judges for their International Law Moot Court which she served with dedication. She also attended a seminar on EB-5 visa by AILA and received a Certificate for this immigration law specialty.
Vanessa Elmaleh Attorney in Law speaks French and is also fluent in Spanish and Hebrew